Gordon Medical Associates hosted the "Biotoxin Illness: The Science Behind Accurate Diagnosis and Effective Treatment" October 22-23, 2011 in Santa Rosa, CA.
While this blog post will not cover all of the details of the event, further information can be learned from either the recordings of this event available through Gordon Medical Associates or via several learning opportunities at SurvivingMold.com.
I continue to spend time learning more about Dr. Shoemaker's work as I have not yet entirely addressed all of the biotoxin illness markers, especially C4a, and am interested in Dr. Shoemaker's work as I think he's a rare genius in the field.
If your doctor is not already familiar with Dr. Shoemaker's treatment approach, ask them to get the Physician's Approach to Biotoxin Illness DVDs or the Surviving Mold book and get educated on the protocol. The more doctors that learn how to treat biotoxin illnesses, the better off we will all be.
The biggest takeaway for me from the weekend was one that I had already known, but it is also one that I cannot reinforce enough how strongly I feel about it. In my opinion based on what I have learned from Dr. Shoemaker's work, everyone with Lyme should have their HLA genetic testing done so that they understand if it is Lyme toxins, mold toxins, or both that they are inefficient in identifying and excreting. This information may change the course of your treatment. Additionally, if one is a mold-susceptible type, I think it is critical to have the ERMI testing done to see if your living environment is save. If one has a mold-susceptible type, an ERMI of < 2 is the goal. Anything higher than that is potentially unsafe and negatively impacting your health.
Ignoring the mold issue while treating Lyme disease is, in my opinion, much like trying to keep a boat filling up with water from sinking by using a cup to dump the water overboard when the boat itself has several holes in the bottom. You just can't win unless we evaluate and address all of the factors involved in our ill-health. Mold is often a very critical and overlooked factor.
I'm very excited about Dr. Shoemaker's new web site SurvivingMold.com. The information there is invaluable. I highly recommend that you spend some time on the site to better understand how to evaluate and approach biotoxin-related illness (whether it be Lyme, Mold, or other biotoxins). The Biotoxin Pathway is the best summary of Dr. Shoemaker's work. To view it as a PDF, click the image below.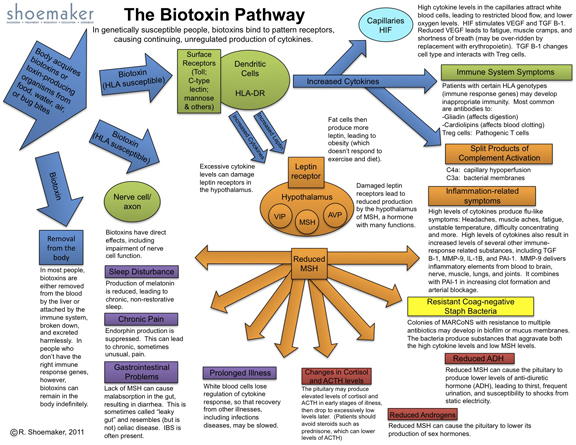 Here are some key points I took away from the weekend.
Dr. Shoemaker
92% of people with biotoxin illness have a positive VCS test. The test can be done online at SurvivingMold.com. A negative VCS test does not rule out biotoxin illness as there can be false-negative results.
ADH (anti-diuretic hormone) deficiency is almost universal in biotoxin illness. When MSH is low, ADH is generally low. In fact, when MSH is low, many things go wrong in the Biotoxin Pathway.
When ADH is an issue, you lose water. Salt then gets dumped onto the skin via the sweat glands. Dr. Shoemaker did sweat chloride tests and found that when people experienced static shocks, they had high chlorides.
"Doing air sampling is the stupidest thing I have ever heard in my life," stated Dr. Shoemaker.
MSH and VIP are regulatory peptides. VIP is now available as a nasal spray that can be used after you have followed all of the required steps in his treatment program. It will not work if done without having done the earlier steps. MSH is not available yet. ADH is another regulatory peptide.
When you lose control of inflammation, inflammation goes wild. If you don't control inflammation, it will chew you up.
Uncontrolled inflammation can be evaluated using C4a, MMP-9, and TGF-b1 testing.
Reduced MSH is a co-factor which can lead to MARCoNS, a nasal staph infection. MARCoNS activates inflammation. MARCoNS can also produce biofilms and biotoxins.
TGF-b1 can be an indicator of autoimmunity. It can lead to changes in lung tissue and symptoms that are asthma-like.
The condition that Dr. Shoemaker speaks of is not a "mitochondrial disease" but an oxygen delivery deficiency.
In 1999, Dr. Sam Donta identified that Borrelia makes a neurotoxin. Shoemaker tried cholestyramine and found that patients got worse. TNF-alpha had risen. MMP-9 had risen which can be a marker of cytokines. He then started using Actos to block TNF-alpha and MMP-9. When pre-treating with Actos to block MMP-9, it still did not work. It only worked when the no amylose diet was used along with the CSM and Actos.
VCS testing came into the biotoxin picture in 1998. MSH and Leptin came in 2000. MSH controls cytokines and inflammation. Nasal cultures and HLA-DR came in 2001. VEGF and MMP-9 came in 2001. ADH/Osmo, ACTH/cortisol, and androgens came in 2002. Anti-gliadin antibodies came in 2003 and anti-cardiolipin antibodies came in 2004. C3a in 2004. C4a and VIP in 2005. Von Willebrand's in 2005. ERMI in 2006. TGF-b1 in 2008. VIP and CIRS (chronic inflammatory response syndrome) in 2009. CD4+CD25+ regulatory T-cells in 2010.
Dr. James Lipton has studied MSH. It has been found that MSH kicks out Candida and nasal staph. Sooner or later MSH will be available, but at present, it is not.
Coag-negative staph has been found in removed teeth.
There are 54 known haplotypes related to HLA testing. 15-6-51, 16-5-51, 11-3-52B, and 4-3-53 are ones that impact people with Lyme disease. These people do not recover with antibiotics alone.
VEGF stimulates blood vessel growth. If you have hypoperfusion, VEGF will generally be low, but not always.
Unless one knows what levels their MSH and ACTH are, never give steroids. Someone may be given Cortef, and it may knock out the last anti-inflammatory pathway you have left.
People with DQ of 2 may be celiac. 17-2-52A and 7-2-53.
C3a represents a bacterial membrane. It is high in acute Lyme. In mold, C3a is normal and C4a is high.
In his review of treatment, 92% of patients were still doing better six months after they were treated. He believes these numbers are even higher now that the protocol has been evolved and more tools are available.
There are no racial barriers when it comes to biotoxin illness.
Forget doing IgE and/or IgG antibody testing for fungi.
New homes are built fast and are probably the worst when it comes to mold.
It is a false assumption to think that striae or stretch marks are Bartonella or that night sweats means Babesia.
Amish construction techniques almost guarantee mold will be a problem.
Mold is an indoor illness, not an outdoor illness.
Dietary changes such as avoiding bread, blue cheese, etc. won't impact the course of a mold-related biotoxin illness according to Dr. Shoemaker.
HBOT and sauna do not seem to help.
Aerobic exercise is a mistake.
When there is not enough oxygen available, as is common with biotoxin illness, you get 2 ATP instead of 38 ATP.
Many patients exhibit a clawing of the fingers and toes.
When putting a piece of paper on an outstreched hand, mold patients tend to have the paper flapping up and down. This can be related to high TGF-b1.
MS is a disease of abnormality of TReg cells and elevated TGF-b1.
45% of biotoxin-illness patients have lesions that look like MS on an MRI.
Low VIP is related to shortness of breath during exercise.
Ants and bugs crawling sensation on the skin (formication) are not uncommon.
Need to look at HLA, MSH, VIP, ADH, TGF-b1, C4a, MMP-9, VEGF, CD4+CD25+.
In biotoxin illness, aromatase is upregulated – patient presents with low androgens and elevated estrogens.
Get low Testosterone, low DHEA, and other androgens and if you replace these while aromatase is upregulated, you get estrone and estradiol upregulation. Aromatase inhibitors do not work in this case.
Dr. Shoemaker is working with genomics and something called PAXgene. He is looking for ways to identify genetic fingerprints of specific conditions and then determine how to address those patterns. He will be talking about the specific genetics involved in Lyme at the Physician's Roundtable in Florida in January 2012.
58% of children with mold have gliadin antibodies.
A false positive ANA is quite common.
Hashimoto's presentation is usually not a mold patient.
There is sequential activation of innate immune activation with exposure to water damaged buildings: C4a and TGF-b1 go up on day 1, Leptin on Day 2, MMP-9 on day 2-3. VEGF rises day 1; crashes day 2.
Hypermobile/hyperflexible people are among the "worst of the worst" - 11-3-52B
MSH deficiency has been linked to chronic pain, low pain threshold, and low endorphins.
Do get die off with nasal staph treatment.
Intracellular organisms may not cause c3a elevation.
Chronic Inflammatory Response Syndrome - still waiting for a patient that acquires illness from outside molds. It only takes 2 days of water damage before mold could be an issue in a structure.
The normal way to shut off inappropriate innate immune response is with MSH and VIP, but VIP will not work if other biotoxin markers are abnormal. You must follow the steps in the proper order.
Study with 20 patients using VIP – it fixed abnormal pulmonary response and led to overall symptom reduction. 18 month follow-up revealed that VIP was safe and effective.
VIP has been a godsend. It has been "hope in a bottle".
11-3-52B and 4-3-53 are what Shoemaker calls "dreaded".
ERMI (Environmental Relative Mold Index) - mycometrics.com.
Group 1 are the pathogenic molds and Group 2 are other types of molds such as outdoor molds that come into the home via open windows. Group 2 molds are generally not considered problematic.
You subtract group 2 from group 1 to get an idea of the balance of molds in an environment.
There is a new interpretation of the ERMI called the HERTSMI-2 which is used when someone was sickened by a structure previously to see if it is safe for them to go back into the home. With the new score, it should not be over 10. 11-15 is a gray area, and 16 and above is dangerous.
Lyme and mold have the same bottom line - low MSH and low VIP.
TGF-b1 should be less than 5000. Nasal staph can be a factor in elevated TGF-b1.
One cannot take VIP if their ERMI, via original scoring system, is > 2. They should also have a negative VCS and be clear for nasal staph (MARCoNS).
Cortisol over 20 is an issue. ACTH should be reduced when cortisol is high. If ACTH > cortisol, that is a concern.
When you open the windows in your home, the group 2 molds (good molds) increase.
SurvivingMold.com was the creation of Paul Taylor and his daughter Paige's journey with Dr. Shoemaker. After they lost significant money fighting their local school system after Paige became ill, Paige recovered her health working with Dr. Shoemaker. She has gone from bed-bound to an active college student who today is doing very well.
For exercise, one may start with 5 minutes on a treadmill and increase by 2 minutes per day. Sit-ups are done for 15 minutes at a rate of one per second working up to 900 sit-ups. Free weights are used. This is a gradual progression.
Some mycotoxins have acetyl groups which leads to increased C4a via MASP2. If there are no free acetyl groups, C4a may still be normal even when mold illness is present.
When there is high TGF-b1 and low C4a, this could be an indicator of nasal staph.
VIP blocks MASP2 which can drop high C4a. May help drop from 40,000 to 10,000 but generally will not lower from 10,000 to 5,000.
Procrit is used to lower C4a.
VIP is not the first thing to do. Dr. Shoemaker is very firm about this. If people use this drug inappropriately, it will not only not work, but it could lead to it becoming unavailable to those that may truly benefit from it.
VIP is like a coat of paint. You have to fix the structure before you paint it.
High dose fish oils can be used instead of Actos in slender people. Must use no-amylose diet with Actos or fish oil.
When one is having a herx reaction, there is a worsening in rows D and E of the VCS test. Treatment with Actos or fish oil and Cholestyramine may bring the VCS test back to baseline.
Galaxy Diagnostics is a new lab that is doing upgraded Bartonella testing.
They have looked at methylation and acetylation is something that could be used to alter the genomics leading to illness. This is an area for continued research.
MARCoNS culture is done seated in one nostril. It is best to push on the nose to get beyond the turbinates. Must be 3.5 to 4 inches back and done for a few seconds. Treatment is 30 days.
For MARCoNS, rifampin is a wonderful biofilm buster. If it cannot be taken, generally double the dose of BEG spray.
In terms of the importance of tests at this time, TGf-b1 is first, then CD4+CD25+, followed by C4a.
With the Swiffer version of collecting dust for the ERMI, one needs to ensure they have only 5 grams of dust or their score may be skewed.
If CD4+CD25+ is low, the patient is in trouble. VIP will bring it up.
If MSH is low, IVIG therapy may drop CD4+CD25+.
The most common reservoir for reinfection of nasal staph is a dog. If not a dog, look to see what happens with oral meds as opposed to BEG spray. Is it the same organism with the same antibiotic resistance? If so, that is a treatment failure.
If the ERMI is bad and one cannot leave their home, you have to cleanup reservoirs for exposure. The treatment protocol is the same. Get a HEPA unit. Get rid of carpets, draperies. HEPA vacuum walls and ceilings. Get rid of any porous materials.
You can launder clothes and they generally do fine.
Trental is a weak cytokine reducer that may be something to consider instead of Actos.
If one needs a lower-cost treatment, might consider twice a day on Cholestyramine, Trental, and high dose fish oils.
Cannot use LabCorp for C3a or C4a.
MSH must be from LabCorp.
Treatment Overview
This section is a very high level discussion of how Dr. Shoemaker approaches treatment and the order that the treatment is approached. It is not intended to be all-encompassing. A similar discussion of the steps involved in treating biotoxin illness is available at SurvivingMold.com.
Dr. Shoemaker has created a treatment pyramid. The steps must be followed in order:

Remove the person from the exposure
Cholestyramine and Actos or Welchol (plus no-amylose diet)
Eradicate MARCoNS
Address Anti-gliadin antibodies (gluten)
Correct Androgens
Correct ADH/Osmolality
Correct MMP-9
Correct VEGF
Correct C3a
Correct C4a
Correct TGF-b1
Finally, correct VIP

If the HERTSMI-2 score is 10 or less, the environment should not make the person ill upon re-entering.
Spraying to kill mold does not solve the problem. What is hurting us are the mycotoxins and they are not alive; nor are they removed by spraying.
Cholestyramine is not absorbed and cannot add anything to the body. Thus, its benefit is due to the fact that it is removing something from the body.
Bile flow is slowed down by low androgens and by cytokines.
If you can only tolerate a little cholestyramine, do Welchol with food in between AM and PM doses of CSM. Could do CSM in the morning and evening with Welchol at lunch and dinner.
Do not disrupt your sleep cycle to take a dose of CSM.
MARCoNS cultures as now done through Diagnostic Laboratory Medicine at http://www.dlmlabs.com
Positive anti-gliadin results can be related to celiac disease or can be associated with low MSH. Gluten should be avoided and later retest anti-gliadin. Kids will often go from positive to negative in 3 months.
Feeling "crummy" with gluten does not count unless anti-gliadin antibodies are positive.
For MARCoNS, uses Rifampin orally and BEG nasal spray.
To correct androgens, may need DHEA. Consider aromastase upregulation. Starting to consider HCG. HCG may be a nice new addition when aromatase is upregulated. Giving an MSH-deficient person an aromatase inhibitor such as Arimidex will often cause an acute neurological crisis. Need to look at androgens and monitor estradiol and estrone.
Uses blood testing for all hormones, not saliva.
Excessive urination is due to low ADH. If you have an ADH of < 0.8 or > 13.3, these are a concern. Otherwise to determine if there is an issue with ADH, a comparison has to be made with Osmo given a specific algorithm. In some cases, a nasal spray is used to address this issue.
MSH is used as a measure of immune regulation. If one has been sick for more than six months, MSH is usually down.
Draw all labs before noon.
VIP regulates the circadian rhythm. The pituitary-hypothalamic portal is involved in the production of MSH. When fixing MSH, you fix the androgen problems. When VIP is on board, androgens normalize. VIP fixes Vitamin D. VIP is a master controller of inflammation.
MMP-9 needs to be drawn in a chilled tube. If you don't do this, MMP-9 results may be reported high. Should be concerned if MMP-9 is over 450-500. Shortness of breath and joint problems may present. MMP-9 often response to Actos and the no amylose diet. Should treat any MMP-9 over 332.
Flour and sugar are "white drugs". Actos and diet are critical for addressing MMP-9.
Related to VEGF, it has been observed that people with biotoxin illnesses have lower incidence of cancer. With low VEGF, you don't feel well, you can't exercise, and you present like an asthmatic. The same Actos and fish oil are used. VEGF also normalizes with VIP.
C3a may be an indicator or a Lyme-related issue if the Lyme is in an acute stage.
For C4a, Procrit is used. At high altitude, the body makes EPO (Procrit) and some with CFS feel better are 8,000-10,000 feet. Procrit is a series of 5 injections over 2.5 weeks.
TGF-b1 levels are often elevated with autoimmunity. A drug called Losartan lowers TGF-b1. Low CD4+CD25+ and high TGF-b1 are commonly seen in neurological disease. This appears true in Multiple Sclerosis as well.
VIP downregulates cytokines and TGF-b1. It also raises TReg cells. It improves exercise tolerance.
ERMI must be less than 2 to use VIP. Nasal culture has to be negative. VCS needs to be normal. VIP is then available as a nasal spray.
People have tried to shortcut the process and skip steps and go straight to VIP, but this has proven not to work when doing things out of order.
VIP has been well-tolerated generally, but it should be monitored by the prescribing doctor as there can always be side effects.
11-3-52B and 4-3-53 often respond very well to VIP.
All of the sickest patients have low VIP.
When underlying inflammation has not been addressed prior to VIP use, a lack of any benefit has been observed.
VIP only lasts for 1-3 months in the fridge.
Some Lyme practitioners tend to ignore inflammation and focus only on infection.
When VIP and MSH are low, your body does not have regulation.
Dr. Shoemaker believes that CD57 can also be impacted by mold exposure.
If CD4+CD25+ is 3 or 4, you really have to move out.
When giving antibiotics for Lyme to a person with Lyme, you often see a drop on VCS testing in Row D and Row E.
Dr. Neil Nathan
Mold can be an allergen, an infection, or a toxin. There can be overlap, and several different processes may be going on at once.
25% of the population has an inability to process mold toxins which leads to a series of biochemical alterations. This is the HLA typing used by Dr. Shoemaker.
Not all molds are toxic, but Stachybotrys, Penicillium, Aspergillus, and Chaetomium are.
The term mold toxicity is generally thought of as a more broad set of factors including: fungi, actinomycetes, mycobacteria, VOCs, beta-glucans, hemolysins, mleads annans, and proteinases.
Mold plates are not great, but they make the patient take things more seriously in some cases.
Other issues – Lyme and viral infections, MCS, electromagnetic dysthymia, food allergies, and autoimmunity. Mold makes everything else worse. Mold sets off MCS.
Inflammation and immunity – innate immunity (what Shoemaker speaks of) and acquired immunity.
Mold toxin symptoms – fatigue, weakness, muscle aches, cramps, unusual pain, headache, light sensitivity, blurring vision, chronic sinus congestion, cough, chest pain, shortness of breath, abdominal pain, secretory diarrhea, joint pain, stiffness, cognitive impairment, skin sensitivity, mood swings, sweats, difficulty with temperature regulation, numbness, tingling, vertigo, metallic taste, excessive thirst, frequent urination, static shocks, nausea, vomiting, and more.
The only option for HLA types (meaning those HLA types that are susceptible to biotoxin illness based on Shoemaker's work) to eliminate toxins is the organic anion transport system in the small bile ducts of the liver to secrete the toxin into the bile. Liver mixes with bile. This then moves through the GI tract and gets recirculated into enterohepatic circulation. This recirculation of biotoxins can go on for years.
Toxins impact the adrenals, thyroid, and other hormones. Removing the toxins may not be sufficient. Remove the toxin; remove the exposure.
Ionophores are toxins with similar structures and weight that activate receptors. They are flexible in moving into membranes and going anywhere they want.
There are many types of things that can result in biotoxins being introduced into or created within the body. These include Stachybotrys, Aspergillus, Chaetomium, Mycoplasma, viruses, Lyme, Bartonella, Babesia, Pfiesteria, Ciguatera, brown recluse spider bites, and Cylindrospermopsis (a blue-green algae).
MMP-9 often correlates with a high toxin load. Herx reactions reflect sudden rise in MMP-9 and TNF-alpha.
Low VEGF means hypoxia; or lack of oxygen.
Fat cells are hormone factories.
Low MSH = low melatonin.
Low MSH leads to inability to shut off pain = Fibromyalgia.
VIP downregulates cytokines. It downregulates MASP2 which makes C4a from C4. It restores the balance of Vitamin D. It decreases aromatase upgregulation. It upregulates VEGF.
VCS testing can be positive due to Lyme, molds, or heavy metals.
Must bind and eliminate toxins with CSM and Actos, Welchol, IV Phoshpatidylcholine, Glutathione, and Chlorella. VCS can improve 15 minutes after IV Phoshpatidylcholine.
C4a can be lowered with the RX drug Procrit, also known as erythropoietin or EPO.
IF you feel better at high altitude, Procrit may help.
TGFb1 can be lowered with the blood pressure medication Losartan.
When MMP-9 is high, consider 2.4 grams of EPA and 1.8 grams of DHA (fish oil).
"You always, always, always need to look for mold, even when the person tells you my house is not moldy."
Disclaimer:
The information captured here is from my personal notes at the event. It is possible that errors may be present. If you have any corrections to the content above, please
Contact Me
.
Note: As this information may be updated as any errors are found, I kindly request that you link to this single source of information rather than copying the content below. If any updates or corrections are made, this will help to ensure that anyone reading this is getting the most current information.